There are some things that all children should have the opportunity to do outside.
Who am I kidding – there are A LOT of things, but I have contained myself.
Below you will find a list of seven (7) key outdoor activities that all kids should take a crack at — complete with instructions, just in case you are out of practice.
7  outdoor fun must-dos:
make a rockin' s'more (mmmmm!)
make a crown of dandelions
Luckily, my friend Kari at Active Kids Club has made a video to teach all us kids (young and young at heart!) how to make dandelion crowns!
Check it out below!
Now, I fully expect y'all to send me pictures of you and the kids in your world proudly sporting dandelion crowns or engaged in any of the other activities above.
Ooooh, videos would be great. We could post them, if you are open to sharing!
I'll be waiting…
See ya outside! ~ The Grass Stain Guru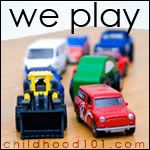 Come play at the Childhood 101 We Play link up!